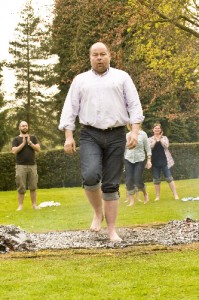 I booked myself on the Huggin Haiti event on Saturday the 24th of April. The event was organised by Jon Boys http://ht.ly/1E1AX of IMS training ltd. It was a day of personal development talks finishing with a fire walk.
The day started at 10am by a talk from Jon Boys, the organiser and owner of IMS training. Closely followed by Harun Rabbani http://bit.ly/doiWPa. I found Harun inspiring and a good speaker. Just before lunch Dr Sree Kumar www.sreesukumar.com gave us a talk on accepting life as it is. Although I found Dr Kumar a very good orator and entertaining, I did not like the message.
Then after lunch Deepak Lodhia www.emotional-intelligence.me.uk gave us a talk and demonstration. As soon as Deepak came on stage, you can feel the energy that he resonates. One of Deepak's subjects was on the anatomy of a bad day. Have you noticed that if you wake up in the morning feeling like you are going to have a bad day, you normally do? The cycle is simple, you think bad day, you then start having the feeling (emotion) of a bad day. The actions that you take as a result of the feeling give you the expected results which then lead to further thoughts of bad day… And round you go again.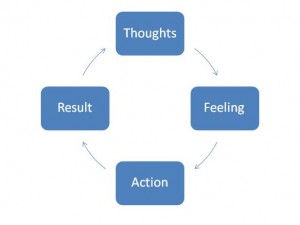 You can't get rid of thoughts so the next best thing is to get rid of feeling or emotion caused by the thoughts. The way Deepak proposes to get rid of those is to ask yourself three questions:
Could you…..?
Would you……?
When?
So let's say you get up with the thoughts of the argument you had last night with your partner, next thing is that you will feel angry which will then lead to get up and start again. So the three questions are:
Could you get rid of the anger?
Would you get rid of the anger?
When?
The chances are that you will want to get rid of it immediately as the feeling of anger is not great and if you start to analyse, you are likely to think that the argument was pretty futile in the first place. Going through those three steps should help you to break the cycle.
After another break with music played by Jon's band, we stood around the fire at about 5pm to light it. We then went back in for a little more of Deepak's wisdom and a safety chat about the firewalk from Jon. We of course had to sign the inevitable health and safety notice releasing Jon and his company for any responsibility in case of accident.
Then at 6:15pm, it was time to come out and face the fire. Who on earth, in their right mind would be willing to walk on charcoal at 1400°C?
We all stood in a circle and clapped until it was time to walk through. The idea is that you only join the walking line when you are ready. I eventually joined the line and got ready to walk through. I looked straight ahead and was totally focused on infinity. I took four steps on the fire and went straight to the water point as requested. I did not feel a thing, walking on the grass before the fire was actually more painful with the gravel that was on the lawn. The elation I felt after I did the walk left me speechless and sobbing. I had to turn round and look at the fire to realise what I had just done. I went back to the circle and clapped the other walkers on.  I very soon made the decision that I would walk through the fire again if we were given the opportunity. The second time, and it may sound very strange to you, I wanted to feel the fire to ensure that it was actually fire we were walking through. My wish was exhausted as I got a small burn on my left foot. I am now sure the fire is real and I can walk through it.
My two "learnings" for the day are that I can get rid of feelings (emotions) if I use the Deepak method and that that if I focus, I can do anything, after all I can walk on fire!