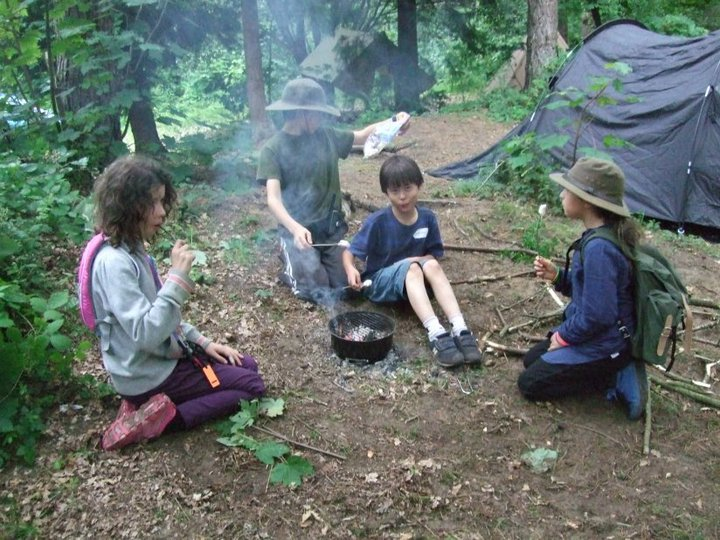 This year I managed to take a few days off during the summer to go on holiday… I did not manage this last year as starting a business is a real full time occupation. Rémi, my seven year old son, and I went camping. Rémi's idea of camping is a tent, a fire and plenty of marshmallows…  Most campings do not allow real fires so I had to find a bushcraft type of camp. While trawling on the internet a few months ago I found the BushcraftUK website where I read about their annual Bushmoot. The Bushmoot has been held in Merthyr Mawr near Bridgend for the past few years and was held there again this year. The camp site is in the woods near a river and not too far from the sea.
After our first foray into wild camping a few years ago, I splashed on a tent and a few bits and pieces. The rest of the equipment was borrowed from my seasoned camping friend Larry. The last experience we had the weekend was catered so we did not have to worry too much about cooking our own stuff on an open fire. This time I had to do the cooking for my son and I. We did cheat a little by borrowing a camping gas hob from Larry but when I tried to fire it up, it just would not work despite a brand new gas bottle. The first evening we had cold food as by the time I had put the tent up without the "how to guide" as it was not included in the tent I bought from Ebay… It was a little too dark to look for firewood.
The following morning, I managed to borrow a Kelly kettle from somebody else and we had breakfast with tea. I served breakfast to Rémi in the tent, which was a mistake as soon the tea went flying in the tent when he tried to get dressed in the cramp tent. I learned a valuable lesson there and no more food was served in the tent, even on the day when it rained!
During the six days of the camp, some craft classes are organised. Most classes are free as people like sharing their bushcraft skills but some classes are payable or at least the material has to be paid for. Rémi and I went on a first aid course for children, bread making over camp fire, basket making, wild food foraging and other interesting courses. The sessions are morning from 10:30am until lunch and again in the afternoon from 14:00. Nothing too taxing but makes the whole camping experience more interesting.
In the evening there was music, singing and storytelling organised from 19:00 until quite late around a camp fire under a parachute. It was a little difficult to keep Rémi seating there so I could not really enjoy this but would have liked to. Rémi was more interested in trying to find his friends and play. You can imagine running wild in 70 acres of land. I understand that there were around 400 people at that camp; a lot of those 400 were kids. I hardly saw Rémi during our time there as he was mostly roaming around with other kids and playing football with the older boys. He only really came back when he needed food or a drink.
The facilities on site are great. There is a block with toilets and showers. You have to be a little canny with your showering times as hot water is at a premium. There is a shop where people can sell their second hand equipment. You can also buy bits and pieces of camping equipment that you may have forgotten. On the Tuesday, some traders set up shops.
Every morning, there is a meeting where you can hear about the day's events and get information about other courses. This is also the time where you are told the rules… Not too many rules but sometimes living in a community is difficult and some people really take advantage. Why would you steal the sink plugs??? All sinks plugs disappeared on the same day!
It was easy to see from the cars there that people on this holiday really come from very different backgrounds. This was even made even clearer when on the last morning, when the organiser asked for suggestions for next year, one of the participants asked whether it would be possible to have coffee organised in the morning… Most of the old Bushmooters asked whether a Latte machine would be suitable 😉
In conclusion, this is a back to basic time that both Rémi and I enjoyed very much. We had a great time and will do this again next year. We would maybe also try to do this on our own but it is not easy to get a wild campsite in UK.