When I reach 1,000 followers I will give this. Who will be my 2,598th followers? What is it about the race to get more twitter followers?
Just in case you did not know, you can buy followers. Finding out who bought some is not difficult,  just look at the report on
Twitter counter
and look at the sudden growth in followers. The image below clearly shows that over a very short period of the time the growth in followers is very sudden. When you check on
Topsy
, you can check the posts during this sudden growth period and you will not see anything special. Not a world exclusive or many retweets. So clearly this user has used his wallet to buy some followers.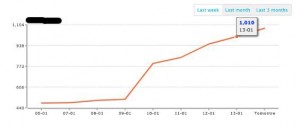 Forgive my ignorance but what is the point of having 100s of followers if you are not actually engaging with them? How many paid followers would recommend you, ask questions or buy something from you?
I think that you should really be reviewing your Twitter success by your click through rate, how many retweet you are getting, how many of your followers interact with you and ultimately how much business you get from Twitter.
What do you think?