I had to go to a meeting in London yesterday; the meeting was about trade fairs and gave me the opportunity to meet with the person in charge of the fair. I was not going to miss this!
I set off from home by train. I live in Taplow very close to the station so quite convenient. As Taplow is not a main stop, the train stops at many stations and takes about 40 minutes to get to Paddington. The train was quite packed but there were a few seats. I elected to seat next to a young guy who had his feet on the seat in front of him. I did ask him if he would do this at home, which prompted him to move his feet back to the floor with a shrug of shoulders and a puff. I feel particularly strongly about people using the seats as foot rest as a few weeks ago on the same train; I managed to get chewing gum on my trousers on my way to meeting a customer… Not a pleasant experience. The chewing gum, not the customer!
Arrived near the meeting venue and met a colleague I share an office with. Neither of us knew that we were going to this meeting. We do not work for the same company but speak on a daily basis.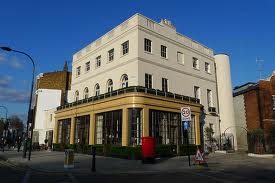 The meeting venue was The York and Albany, in Camden. A very nice venue owned by Gordon Ramsay. We had a meeting room upstairs. It is a beautiful venue. The Lunch that was served in the room was excellent. The whole experience there would have been great if it was not for the fact that during a comfort break I went down to the basement toilets and witnessed a member of staff coming out of one of the cubicles and walking straight out without washing his hands. Then when I was leaving, a member of staff was having a very personal conversation on her mobile phone at the bottom of the stairs.
In view of the very high standard Mr Ramsay ask his Kitchen Nightmare candidates to adhere to, why isn't he asking his own staff to exact the same standards?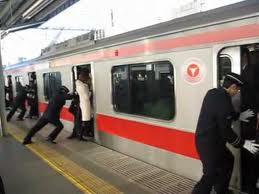 The journey back home was interesting as it was after 5pm and I was caught up in rush hour. I caught the Bakerloo line from Regent Street. The platform was packed and so was the next train. As you know, summer has finally arrived and yesterday was very hot. I eventually managed to barge myself in and had my nose in somebody's armpit for the trip duration. Not a great experience! I lived in Tokyo for two years and rode the Chuo Line on a daily basis. The Chuo Line for the uninitiated is the infamous line in Tokyo where attendants in white gloves push people in the trains in the morning to fit a few more. Although crammed in and somewhat crushed, I have never felt as uncomfortable as I felt yesterday on a London tube. Air condition would definitely alleviate the issue of body odour…  It will be interesting to see what happens during the Olympics in August. I really cannot see how the system can cope with the influx of extra visitors…